Posts for tag: oral hygiene
By Dr Jonathan L Lowry, DDS, PLLC
September 15, 2019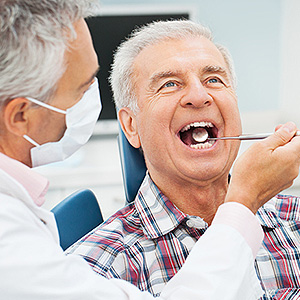 One thing's for sure: We're all getting older. Here's another sure thing: Aging doesn't necessarily look the same on everyone. That one spry octogenarian lapping younger folks on the track is all the proof you need. That's why September has been designated Healthy Aging® Month: to remind everyone that aging well is an investment you make throughout your life—and that includes taking care of your dental health.
Just like the rest of the body, your teeth and gums are susceptible to the effects of aging. For example, after 50,000-plus meals (about 45 years' worth), you can expect some teeth wear. A tooth-grinding habit, though, could accelerate that wear. If you think you're grinding your teeth (especially at night), we can fit you with mouthguard worn while you sleep that reduces the force on your teeth. Managing your stress could also help reduce this involuntary habit.
Aging also increases your risk for the two most common dental diseases, tooth decay and periodontal (gum) disease. Although different in the way they infect oral tissues, both can ultimately cause tooth and bone loss. Prevention is your best strategy—through daily oral hygiene and visiting the dentist regularly to keep the dental plaque that fuels both diseases from building up on your teeth.
You should also see your dentist at the first sign of a toothache, unusual spots on the teeth and swollen or bleeding gums. These are all indicative of infection—and the sooner you're diagnosed and treated, the more quickly you can return to optimum oral health.
Aging can bring other health conditions, and some of the medications to manage them could reduce your mouth's saliva flow. Because saliva fights dental infections and helps restore enamel after acid attacks, "dry mouth" can increase your disease risk. If you're noticing this, speak with your doctor about your medications, ask us about saliva boosters, and drink more water.
Finally, have any existing restorations checked regularly, especially dentures, which can lose their fit. Loose dentures may also be a sign of continuing bone loss in the jaw, a consequence of losing teeth. If so, consider dental implants: The design of this premier tooth restoration can help curb bone loss by encouraging new growth.
There's a lot to keep up with health-wise if you want your senior years to be full of vim and vigor. Be sure your teeth and gums are part of that upkeep.
If you would like more information about protecting your dental health as you age, please contact us or schedule a consultation. To learn more, read the Dear Doctor magazine articles "Understanding Aging Makes Beauty Timeless" and "Dry Mouth: Causes and Treatment for This Common Problem."
By Dr Jonathan L Lowry, DDS, PLLC
April 08, 2019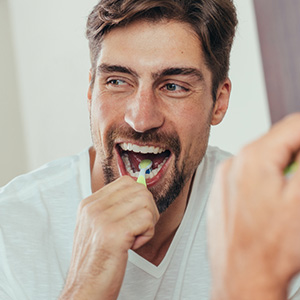 Today's dental restorations are truly amazing. Not only are they life-like and functional, they can endure for many years a hostile environment of bacteria, acid and heavy biting forces.
Even so, you'll still need to take care of your restorations to help them last. Here's how to extend the life of 3 common forms of dental work.
Fillings. We use fillings, both metal amalgam and tooth-colored materials, to repair holes or cavities in teeth caused by tooth decay. Although strong, dental fillings can break if you subject them to abnormally high biting force (like chewing ice). There's also a chance that if a slight separation occurs between the filling and tooth, bacteria can take up residence and reignite the decay process. To prevent this, practice a daily regimen of oral hygiene to clean away bacterial plaque—and reduce sugar in your diet, a prime food source for bacteria.
Veneers. Usually made of thin porcelain, veneers are bonded to the front of teeth to mask chips, stains, gaps or other blemishes. But although they're strong, veneers aren't immune to damage. Habits like biting nails, the aforementioned ice chewing or unconsciously grinding your teeth could cause a chipped veneer. And if periodontal (gum) disease causes your gums to recede, the exposed part of the tooth may look noticeably darker than the veneer. To protect your veneers and their appearance, avoid habits like ice chewing, and seek treatment for teeth grinding and dental disease.
Bridgework. Bridges are used to replace one or more missing teeth. Traditional bridges use the natural teeth on either side of the gap to support the bridge; for a single missing tooth, implants are a preferable option because they don't require permanently altering the neighboring teeth to support it. With either option, though, you should brush and floss around the restoration to reduce the risk of dental disease. Infections like gum disease or tooth decay could eventually weaken the bridge's supporting teeth or gum disease can damage an implant's gum and bone support.
With any dental restoration, be sure to practice daily oral hygiene, eat a nutritious, low-sugar diet, and see your dentist regularly for cleanings and checkups. Taking care of your dental work will help it take care of you for a long time to come.
If you would like more information on maintaining your dental restorations, please contact us or schedule an appointment for a consultation.
By Dr Jonathan L Lowry, DDS, PLLC
January 08, 2019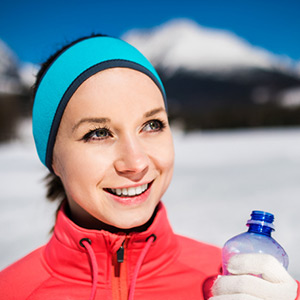 Whether you live in the snow belt or the sunny south, the winter season often means a change in the weather. In many places, the sun isn't as strong and cooler temperatures bring relief from the summer's heat. Yet even though it may be chillier outside, your body's need for hydration is the same as it was in the summer—and a lack of proper hydration can be bad news for your oral hygiene.
Everyone knows we need to drink plenty of water every day to stay healthy. It's important for good oral hygiene because water is the major component of saliva, which fights bacteria and helps neutralize the acids that cause tooth decay. Water also keeps the soft tissues of the mouth moist and healthy, and helps fight bad breath. In many communities tap water is fluoridated, which offers proven protection against cavities.
But in the middle of winter, fewer people carry around bottles of cold water for refreshment—and that's a shame, because we need it just as much! While indoor (and outdoor) air is often drier in winter, your body continues to lose water in the same ways. And if you keep up a healthy exercise routine (like jogging, snow sports or backyard fun and games), you still need plenty of hydration. An ice-cold glass of water may not be as appealing in January as in July…but it's just as important.
Of course, the water you drink doesn't have to be freezing cold to do its job. Hot tea (especially herbal tea) can be a healthy option for wintertime hydration. So is plain water without ice. Fruits and vegetables also contain lots of water, plus vitamins, fiber, and many more substances that are good for your body.
But there are some drinks you should avoid—or at least take in moderation. Regularly drinking coffee and tea can stain your teeth, and excessive caffeine may have negative health effects. Consuming alcoholic beverages can cause dry mouth, and may increase the risk of oral cancers. And, of course, drinks that contain sugar (including soda, some juices, and many coffee and hot chocolate beverages) are linked not only to tooth decay, but to other health problems as well.
And whatever the season, don't forget to come in to the dental office for regular checkups and cleanings. We can remove the sticky tartar that clings to your teeth and may cause tooth decay and other problems. We will also perform a complete dental exam, evaluate your oral health and help resolve small problems before they turn into big headaches (or toothaches). Working together, we can help you enjoy the benefits of good oral hygiene all though the year.
If you would like more information on oral hygiene, please contact us or schedule a consultation. You can learn more by reading the Dear Doctor magazine articles "10 Tips For Daily Oral Care at Home" and "Think Before You Drink."